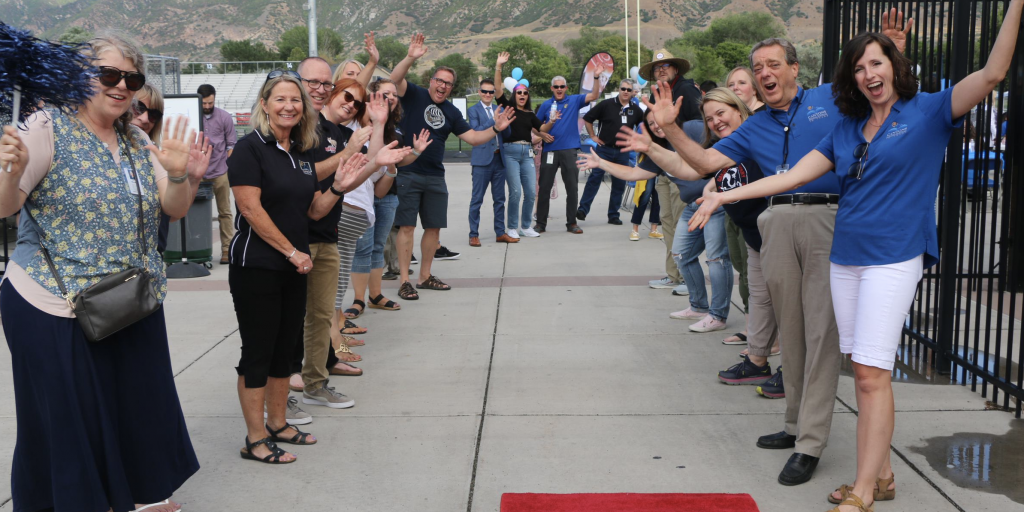 When doors open in Canyons District for the 2021-22 school year on Monday, Aug. 16, 2021, about 250 new faces will be among the thousands of teachers welcoming students.
Those same teachers received their own special welcome to "Team CSD" on Monday, Aug. 2.
Newcomers from Utah, several other states — from Michigan, Wisconsin, Texas and Oregon to Iowa — and even multiple countries were guests for a party at Corner Canyon High. The towering Wasatch Mountains provided a scenic backdrop for a fun event that included walks down a red carpet, hundreds of free hot dogs, chips and cookies, enthusiastic greetings from Charger cheerleaders, an Alta High drumline performance, vendor booths with samples and prizes galore, free Canyons T-shirts and book bags, a festive atmosphere and many smiles and introductions.
It might be hard to tell who's more eager for Canyons' first day of school, the District's 13th since its founding in 2009, between the recently hired teachers and counselors from around the globe, or the new and returning students. Either way, enthusiasm abounds ahead of a promising school year for 34,000 students and a stellar group of teachers, new and old alike.